Microsoft have launched the new Office 365 E5 plan which replaces the existing E4 plan.
Announced at Microsoft's Convergence EMEA conference in November 2015, pricing plans are set at £21.80, per user a month.
Whilst retaining features from its predecessor – E5 unveils features that are geared towards enhancing security, communications and analytics.
Here's some of the new features:

New Skype for Business services
Skype for Business packs loads of new features in E5. It's clear Microsoft are making moves in the business phone and conferencing market. The top two features:
Cloud PBX – Allows you to place and receive phone calls in your Skype for Business client. You'll be able to manage these calls with features such as hold, transfer and forward. You'll be able to do this at the office or remotely using mobile, laptop and other devices – Eliminating the need for a traditional telephone system.
PSTN Conferencing – You'll be able to join Skype for Business meetings from any telephone by dialling a local access number. You can also join an online meeting without an internet connection, allowing you to continue working wherever you choose.
Advanced Threat Protection
New and sophisticated viruses, propagate around the web daily. As savvy as you think you are, on occasion you'll unwittingly open emails that contain dangerous attachments or dodgy links. E5 introduces Advanced Threat Protection for mailboxes (ATP) to help manage that threat.
Safe Attachments – Prevents malicious attachments from reaching mail accounts. Suspicious content is put through a real time malware analysis system, that learns the more threats you expose it to. Unsafe attachments are then quarantined and expunged.
Safe Links – Sometimes, attackers try to hide malicious URLs with 'safe' links that redirect to unsafe sites, by a forwarding service. Safe Links will keep you protected as it'll detect these malicious URLs and stop you navigating to the sites.
Reporting – Offers a rich suite of reporting tools that helps you identify trends, patterns and if specific people within your organisation are being targeted.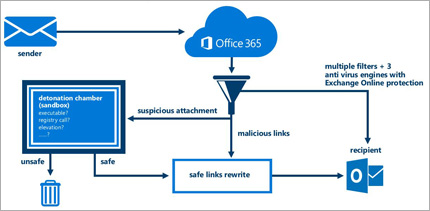 Mailbox Security Flowchart
Delve Analytics
Delve is the brand new Office 365 application that as you're working collates information about you, who you speak to, and what you use.
Powered by Office Graph, Delve will learn from you as you use it. It'll learn what documents you access regularly, what documents you use with colleagues and learn who you contact regularly.
It'll present this information in a dashboard styled interface, allowing you to get into work quickly. It'll also monitor the content you digest and suggest similar content to you.
You'll be able to set up your own 'profile' within Delve. You'll be able to map out your skills and specialisms and have visibility over everyone else's.
A full list of E5 features are available on the Microsoft Website.
Existing E4 users will keep their plan until contract renewal and then be offered options to downgrade or upgrade.
It should be noted that some of these features are only available to US customers at present, as Microsoft continues to roll out E5 globally.
If you want to know more about Advantage's IT Support and Managed Services or Office 365, call 0203 004 4600 or visit our website.