If you are relatively new to or are in the process of trying to expand your knowledge of Dynamics 365, the chances are that you have come across some terms or functionality that you aren't quite sure of the meaning. In our latest tips and tricks article, we are going to explain a few key Dynamics 365 terms that you may not understand.
Publishers
First on the list of terms for us to explain are publishers. Essentially, the role of the publisher is to determine exactly which user created a specific solution. Why should you care? Here's why, even a quick start Dynamics 365 package has over 20 solutions but the likelihood is that there will be even more once you start customising the system. Furthermore, if you purchase a solution, you will be aware of the vendor and the best way to get in touch with them.
Publishers are able to be identified by both the prefix and name. The prefix part is used for custom entities and fields, whilst the name part is used specifically for the solution. The name needs to be created by the user, whilst the prefix can either be system generated (basically new) or set up from scratch, however for the purposes of being able to identify it easily, it is widely advised to set up a unique prefix.
Tabs vs Sections
It is important to note that tabs contain Sections and Sections contain Fields. This is demonstrated in the screenshot below where details is a tab that contains a number of different sections such as the Company Profile, Description, Marketing, Contact Preferences, Billing and Shipping.
Following on from this, you will find the list of tabs for each form when you click on the Form Navigation drop-down next to the record name.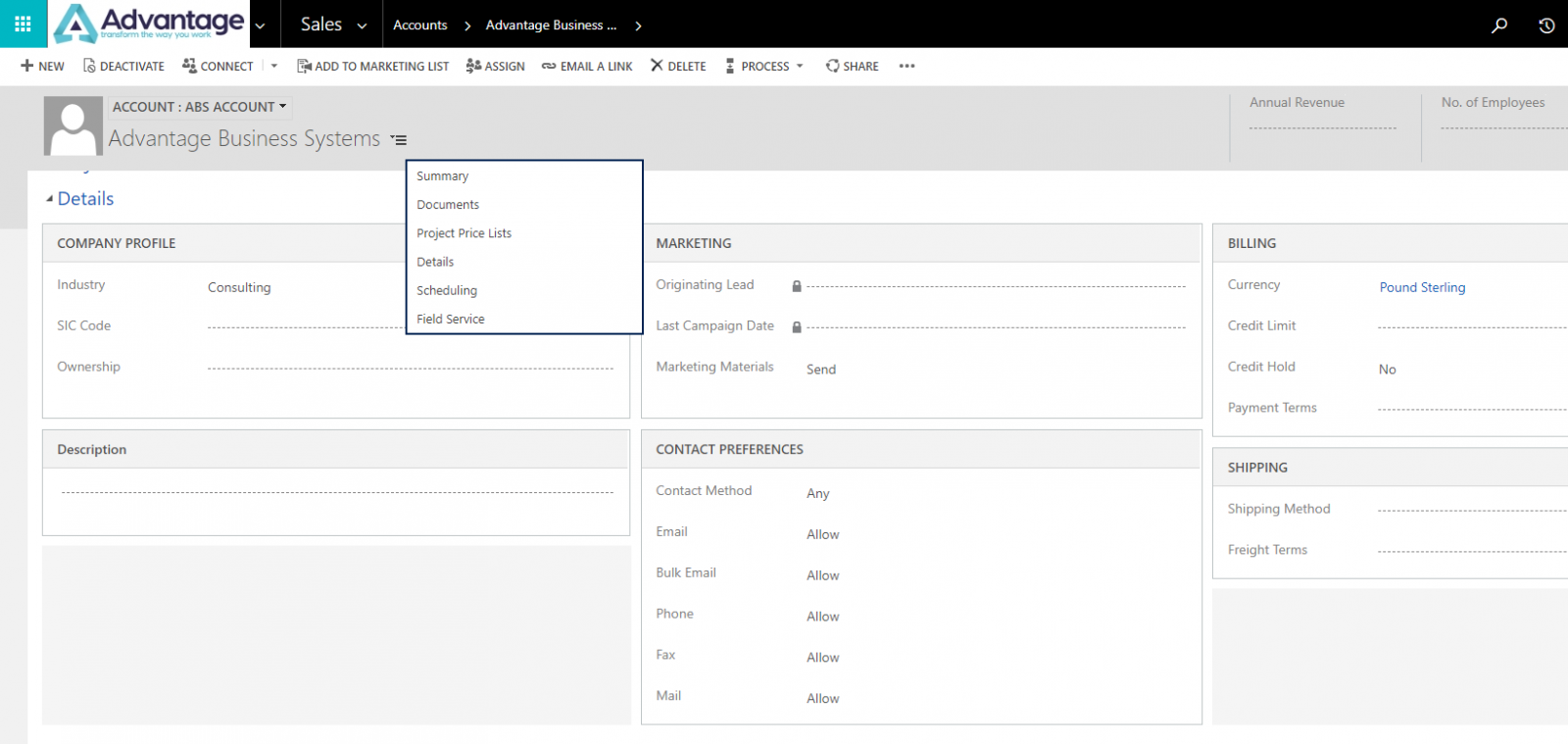 Connections vs Relationships
Put simply, connections show the association between sets of records. It is an entity and means that you need to specify the connection role every time you create a connection such as a colleague. From here, you are able to create a Connection between any entity or record.
Whereas on the other hand, relationships reveal the association between entities. Unlike Connections, Dynamics 365 does not give you the overall view of relationships. Therefore, it means that you are not able to see the Relationships entity in Advanced Find. These relations can be 1:N, N:1 or N:N. Therefore, unlike Connections, relationships are not classified as an entity. The relationship established between different entities is configured from within the settings.
It is important to not get confused between Relationship Roles and Relationships. Relationship roles are being phased out by Microsoft and will therefore not be available in updated versions of Dynamics 365. Relationship roles are being replaced by Connection Roles. Also, Relationships Insight (a feature within Sales) and Product Relationships are also completely different from Relationships.
If you are looking to find out more about the different Dynamics 365 solutions available and how they can help you to transform the way you work or require additional Dynamics 365 training, then please get in touch with our Dynamics 365 experts today.
If want to receive articles similar to these straight into your inbox, then sign up to our mailing list today.