If you are a regular user of Dynamics NAV and are in the business of processing sales orders at various points throughout the month, there may be occasions where you may need to manually use Blanket Orders in Dynamics NAV for specific customers.
Essentially, blanket orders provide us with the ability to create a sales order and then ship and invoice the customer over time. This can be effectively used when specific customers need substantial quantities of a particular product over a period of time.
In our latest tips and tricks article, we will show you how to manually use Blanket Orders within your Dynamics NAV solution. This can be done by using the following steps:
Step 1: Login into your NAV solution, then navigate your way to Blanket Order List through CRONUS UK Ltd.>Departments>Sales & Marketing>Order Processing>Blanket Sales Orders
Step 2: Once here, select the 'New' button to create a new blanket order.

Step 3: Complete the appropriate fields and add the customer who you wish to sell to. You will notice that the fields will then populate as you would normally see in a sales order.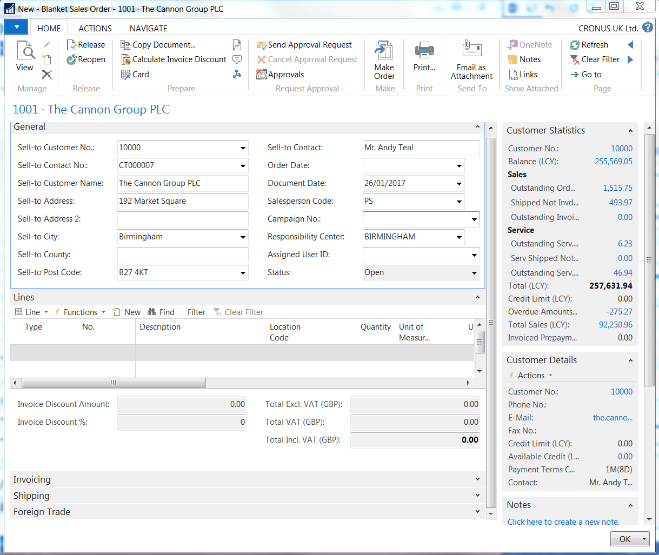 Step 4: Once you have completed the above, you will then need to create sales lines.
Step 5: Define that quantities you would like to ship. Once you have done this, select the 'Make Order' button on the main ribbon.

Step 6: After this has been processed, an information message box will appear telling you which sales order has been created for this Blanket Order.

Step 7: All that is left to do now is to process the newly created sales order in the way you would do it usually.
If you are struggling to complete the process above or are looking to upgrade your existing NAV solution, move your current finance system to Business Central, in need of more specific NAV training or require more dedicated NAV support then please do get in touch with our experts to discuss how we can help your business.
If you are looking to receive more of our 'how to' guides for Dynamics NAV straight into your inbox then please sign up to our mailing list today.