When you are working within several different companies it's easy to get mixed up and unsure of which company you are currently in. This can lead to posting being done in the wrong company – a big no no! The "System Indicator" in NAV provides an easy, colour coded identifier which can help you quickly differentiate between your companies to make it easier to know which company you are currently working in.
You can enable and configure the System Indicator functionality from the
Company Information
page in NAV.
From the System Indicator FastTab on this page, you can determine how you'd like to identify the company and an accent colour which will be used to highlight this text.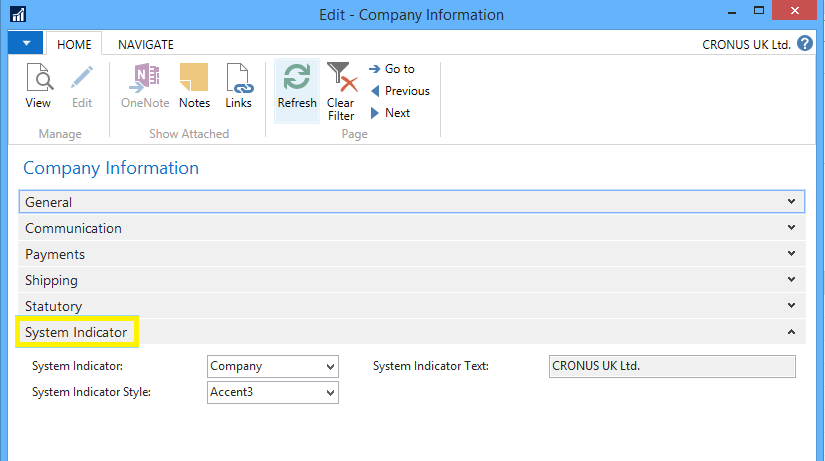 In the System Indicator field, select from one of the following options:
None
Custom Text: The System Indicator Text field will become editable, allowing you to enter a value of your choice; the field supports up to 250 characters, but it is best to keep it as short as possible.
Company Information: This will use the value in the Name field under the General FastTab of the Company Information page
Company: The name of the company as it appears in the Companies page or from the Open Company window
Database
Company + Database
The last two options are especially helpful if you have two or more databases, such as a live DB, a test DB, and a development DB.
The choice of accent colour is defined in the System Indicator Style field. There are ten options to choose from, these options and the related colour that will appear are:
Accent1: Red
Accent2: Blue
Accent3: Fluorescent Green
Accent4: Olive Green
Accent5: Purple
Accent6: Black
Accent7: Yellow
Accent8: Green
Accept9: White
Standard: None
Once you've set the values in the System Indicator and System Indicator Style field, you will need to exit and restart the NAV client (or switch to another company and back).
Don't forget to repeat the process for each company in the database.
Note: System Indicators are only available with the Windows Client. The Web Client, Tablet app and Phone app do not currently support this functionality.