The standard distribution model has changed in recent years. Distributors now look to hold onto less stock and selling in advance of sourcing goods is common place. Microsoft have identified this trend and tailored their solutions to focus on providing a warehouse management solution fit for an enterprise level organisation, but affordable for SMEs
Microsoft Dynamics NAV 2016 is packed with functionality to help grow warehouse management and distribution businesses.
Sales & Receivables
Sales Order Management: Manage sales quotes, blanket sales orders, EDI orders and sales order processes in NAV.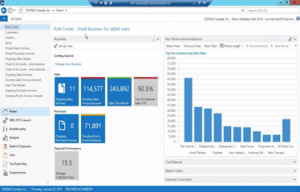 Realise shipping and invoicing independently of each other, control partial shipments, manage prepayment invoices, etc.
Sales Invoice Discounting: Set up flexible discount terms (percentage, minimum levels, etc) at line or total order value in multiple currencies. Once set up, discount calculations are carried out automatically.
Campaign Pricing: After setting up a price/discount campaign, customers or contacts associated with the campaign will automatically receive the campaign level prices and discounts.
Alternative Shipping Addresses: Multiple ship-to addresses accommodate and manage customers that have more than one site to which orders can be shipped. The delivery location can be selected when generating a sales order or invoice.
Warehouse Management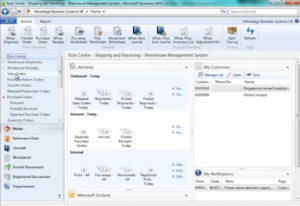 Automated Data Capture; Hand held bar code devices can assist in streamlining the receipt and put away of items and subsequent picking for dispatch.
Set Up Bins: Creation of a warehouse layout within NAV enables optimisation of put away and picking processes, allows restrictions for size, weight, volume, etc to be assigned to specific bins and certain areas of the warehouse to be utilised for quality control procedures and marshalling of picked orders.
Returns Management; ensure any returned items are quarantined and assessed for eventual resale.
Location Transfers; ensure stock is tracked from one location to another, for example from stock to distribution centres, retail outlets, etc.
Inventory Management
Stock Analysis: NAV provides rich analysis functionality to enable analysis of customers' purchase patterns by item, spot trends, assess item pricing, etc.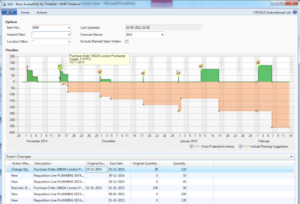 Alternative Suppliers: It also allows the management of purchasing the same item from different suppliers (with different price points, lead times) therefore providing the best customer service and availability of items.
Item Ledger Integration: NAV's item management enables the setup of core item information (costing methods, unit cost and price, margin, lead time, etc, etc) and integrates fully with the General, Sales & Purchase ledgers.
Substitutions and Cross References: NAV manages item alternatives/substitutions together with the ability to cross reference supplier or customer item codes with those held internally.
Traceability: You can batch or serialise track items enabling full traceability from supplier to end customer of any item.
Time Line Visualisation: NAV provides a fully integrated tool, providing the user with a visual projection of future supply and demand and enables the user to make dynamic modifications on the fly.
For information on Advantage's ERP and warehouse management solutions for distribution, visit Advantage's website or call Martyn Kemp on 0203 004 4600.