As a regular user of Dynamics GP, we should always be on the lookout for features within our GP solution that can help to make our day to day jobs easier.
One such feature that is not widely known is the ability to use Analytical Accounting in Dynamics GP with the Fixed Assets module. Over the years, we've had a number of clients approach us asking to see if there was a way to attach AA codes to depreciation expenses.
Lucky for our clients, within your GP solution, you are able to do this. The end result will be that when you process any type of Fixed Asset transaction, it will record the GL transaction as per usual and then it will code the transaction to the AA dimension code which is attached to the asset accounts.
In our latest tips and tricks article, we will show you how to use Analytical Accounting for Fixed Assets in Dynamics GP.
Before you start, you will need to run through some setup steps to enable this functionality. This is based on the assumption that you already have Analytical Accounting set up. After this initial setup has been completed, you will be able to start adding AA dimensions codes to your assets!
Let's take you through an example on how to add AA codes to individual assets:
Step 1: Login to your GP solution then go to 'Cards' followed by 'Fixed Assets', then select 'Account'.
Step 2: Select an asset ID.
Step 3: Next to each GL account, you will find the familiar AA code button that you will see in other screens in GP. From here, click on the AA icon to add your AA code (s) relevant to this individual asset.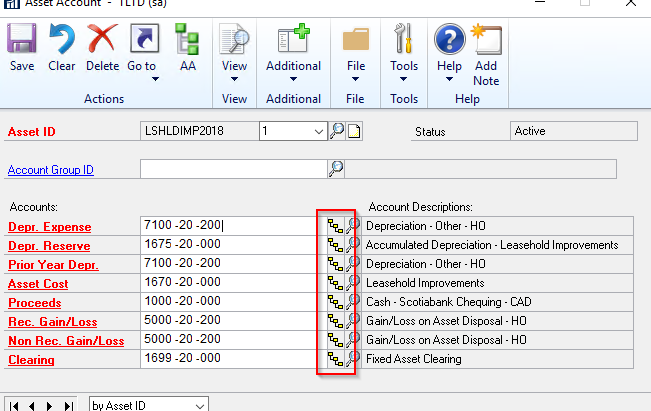 *Please note that to be able to attach AA codes to your GL accounts above, you will need to make sure that those GL codes are already linked to the dimension code.
Once your assets have AA codes attached, you can undertake any process within the Fixed Asset module (additions, retirements, disposals, depreciation etc) and when it creates the GL transactions, it will also records values against the AA dimension codes assigned. You are then able to run your usual AA reports that will now automatically include any amounts generated via fixed asset transactions.
If you are looking to get the above setup or need additional GP support or tailored GP training then get in touch with Advantage Business System's team of GP experts today to see how we can help you going forwards.
If you are looking to receive articles similar to the above, then please do sign up to our mailing list to get all these articles delivered straight into your inbox.